I've had lots of good luck with recipes from
SimplyRecipes.com
. Here's a quick and easy one for zucchini. I just tossed the zucchini pieces with the garlic and olive oil, and then lined the zucchini slices up on the baking sheet with the skin side down. Needed to cook a little over 10 minutes at 450F. Very tasty and smells great. Served it up as a side dish with Rosemary Lemon Garlic Chicken Wings. Oh and I'm tagging this one gluten-free. If I'm wrong about that, let me know.
Roasted Zucchini with Garlic Recipe
INGREDIENTS
1 lb zucchini, each cut lengthwise twice, and then cut in half across the middle
1 Tbsp fresh minced garlic clove
1/4 cup olive oil
Salt and freshly ground black pepper
1 teaspoon Herbes de Provence [I used a mix of basil, oregano, thyme, and tarragon]


Preheat oven to 450°F.


Toss zucchini with garlic and olive oil in a mixing bowl.


Place the zucchini pieces on a baking sheet, skin side down.


Place in heated oven on the top rack. Set the timer for 5 minutes and check to see if the zucchini is beginning to brown at the end of 5 minutes. If not, continue to add 2 or 3 minutes at a time until the zucchini begins to brown. Once it begins to brown, remove from oven and place in a bowl.


Mix in Herbes de Provence. Add salt and pepper to taste.

Serves 4-6.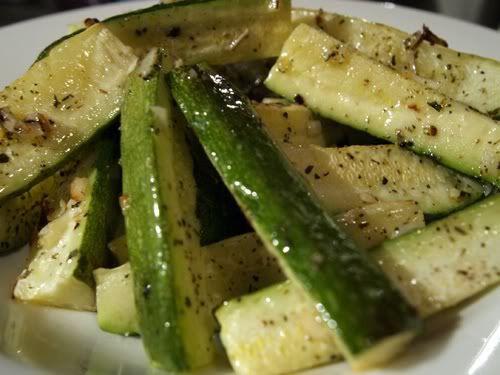 Recipe from:
http://simplyrecipes.com/recipes/roasted_zucchini_with_garlic/
Cross-posted to vegrecipes:
http://vegrecipes.livejournal.com/1725323.html