I'm still looking for a favorite zucchini bread recipe. Granted, I still need to give this one another chance since I didn't follow the instructions. I cut the sugar from 3/4 cup sugar down to 1/2 cup and I think that was a mistake since it came out tasting a bit bland. I also think I'll follow some of the other recipes I see and add raisins next time. Also, while I followed instructions and greased and floured the pan, I think next time I'll grease and sugar the pan instead. I find sugar easier to even distribute and things seem to stick less with sugar. Still good overall since I like zucchini bread and it still paired nicely with hot tea.
Zucchini Bread
3/4 cup sugar
1/4 cup vegetable oil
3 eggs
2 tsp vanilla extract
2 cups shredded zucchini
1/2 cup applesauce
1/3 cup orange juice
3 cups flour
2 teaspoons baking soda
1/2 teaspoon baking powder
1 teaspoon salt
3/4 teaspoon nutmeg
1 1/2 teaspoons cinnamon
1 cup chopped walnuts


Preheat oven to 350F.

In large bowl, mix sugar, oil, eggs, and vanilla.

Beat until well blended.

Add zucchini, applesauce and orange juice; stir well.

Combine flour with next 5 ingredients.

Add to zucchini mixture; stir well.

Add nuts; stir gently to combine.

Pour into 2 greased and floured 9-inch loaf pans.

Bake for 60-70 minutes; till toothpick comes out clean.

Let cool in pans 10 minutes.

Remove from pans and let cool completely.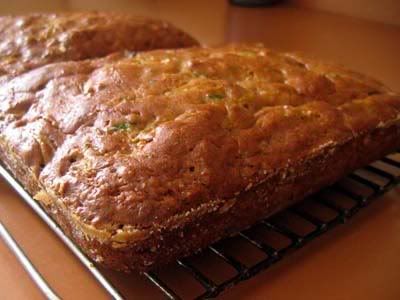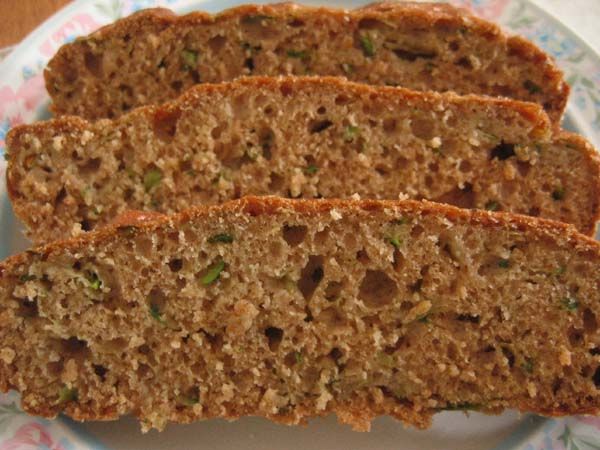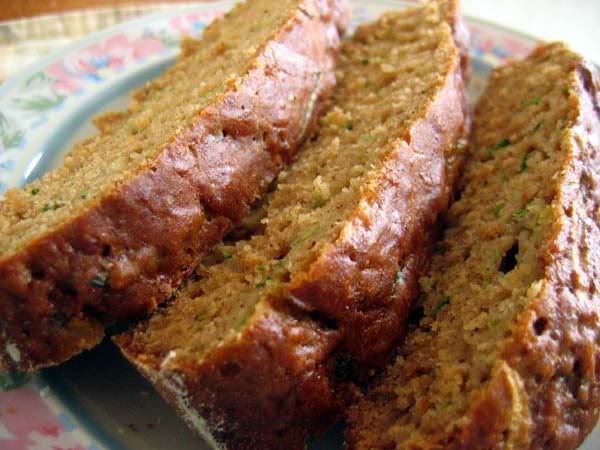 Got any favorite zucchini bread recipes? Or ideas for tweaking this one?