This is a quick and easy appetizer if you use ready-made frozen puff pastry sheets. If I had any on hand, I would also sprinkle in chopped fresh basil beneath the zucchini and squash slices. I also think goat cheese would work nicely with this. I think I'll add sliced mushrooms too next time I make this.
Zucchini Puff Pastry Tarts
1-2 sheets of ready-made frozen puff pastry sheets, thawed
1 small zucchini, sliced into coins
1 small yellow summer squash, sliced into coins
handful of sun-dried tomatoes, cut into thin strips
1/2 cup shredded cheese (I've used mozzarella or sharp cheddar)


Pre-heat oven to 400F.

Cut each sheet in half.

Place puff pastry onto baking sheets, prick several times with a fork, and bake about 10 minutes until they turn a light golden color.

Pull the pre-baked sheets from the oven and sprinkle with shredded cheese and sun-dried tomato strips. Arrange zucchini slices on top, alternating colors. Sprinkle with a little more shredded cheese.

Bake for another 10-15 minutes until cheese melts and zucchini is tender.

Let cool on a wire rack if not serving immediately.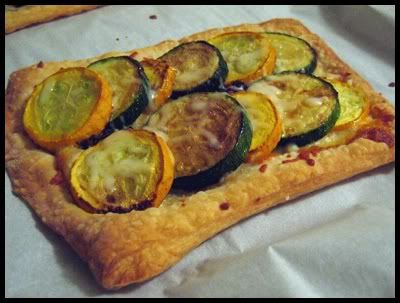 What other toppings would you put?