Time to trot out all the recipes I've tried that use summer ingredients. Made this one last year and liked it a lot. Brian liked that it wasn't too sweet but thought it was almost a little too buttery/fatty. And since he's not such a blueberry fan anyhow, he wasn't so keen on it (even though he did eat 2 pieces). I liked eating this for breakfast or for a mid-afternoon break with tea.
Looking online, there are versions that use just 1 stick butter or 1.25 sticks butter and still reported good results. So next time I'll reduce the amount of butter. I used heaping half cups of the blueberries in both steps since I love blueberries and we had 3 pints of them. Also, for the topping portion, I ran out of sugar. I had only enough granulated sugar to fill maybe half of the 1/4 cup measuring cup. Filled in the rest (but not all the way) and then when I was sprinkling it over the top of the batter, I sprinkled enough to cover and then held back a small portion (maybe 1/4 to 1/2 tsp?). The batter had a good amount of structure and volume to it. Also, I baked it in an oven that was a little too hot. Might've been more like 375F for 40-45 minutes total. My pan is slightly larger than the specified 13 by 9-inch pan, so the resulting height of my cake isn't as tall as it might have been.
Blueberry Boy Bait
Serves 12
If using frozen blueberries, do not let them thaw, as they will turn the batter a blue-green color. Tossing the blueberries in flour prevents them from discoloring the batter and sinking to the bottom.
Cake
2 cups (10 ounces) all-purpose flour plus 1 teaspoon extra for blueberries
1 tablespoon baking powder
1 teaspoon table salt
16 tablespoons unsalted butter (2 sticks), softened
3/4 cup (5 1/4 ounces) packed light brown sugar
1/2 cup (3 1/2 ounces) granulated sugar
3 large eggs
1 cup whole milk
1/2 cup blueberries (2 1/2 ounces), fresh or frozen, (see note above)
Topping
1/2 cup blueberries (2 1/2 ounces), fresh or frozen (see note above)
1/4 cup (1 3/4 ounces) granulated sugar
1/2 teaspoon ground cinnamon


For the cake: Adjust oven rack to middle position and heat oven to 350 degrees. Grease and flour 13 by 9-inch baking pan.


Whisk 2 cups flour, baking powder, and salt together in medium bowl. In a big bowl, use an electric mixer to beat butter and sugars on medium speed until fluffy, 3 to 6 minutes. Add eggs, one at a time, beating until just incorporated.


Reduce the mixer speed to low and beat in one-third of flour mixture until incorporated; beat in half of milk. Beat in half of remaining flour mixture, then remaining milk, and finally remaining flour mixture.


Give the batter a final stir using a rubber spatula to make sure it is thoroughly combined. Toss blueberries with remaining 1 teaspoon flour. Using rubber spatula, gently fold in blueberries. Spread batter into prepared pan.


For the topping: Scatter the remaining 1/2 cup blueberries over top of batter. Stir sugar and cinnamon together in small bowl and sprinkle over batter. Bake until toothpick inserted in center of cake comes out mostly clean, 45 to 50 minutes. Cool in pan 20 minutes, then turn out and place on serving platter (topping side up). Serve warm or at room temperature. (Cake can be stored in airtight container at room temperature up to 3 days.)

Note: According to a 1954 edition of the Chicago Tribune, a fifteen-year-old girl named Adrienne (aka Renny) Powell of Chicago entered her dessert -- Blueberry Boy Bait -- in the junior division of the Pillsbury Grand National Baking Contest. She won second place, which included $2000 cash prize plus a promise to print her recipe in Pillsbury's 5th Grand National Recipes Cookbook. Renny named the cake (a family recipe) for the effect it had on teenage boys -- one bite and they were hooked. We made only a few minor adjustments to this recipe, adding an extra egg for more structure and replacing shortening with butter and half of the granulated sugar with brown sugar.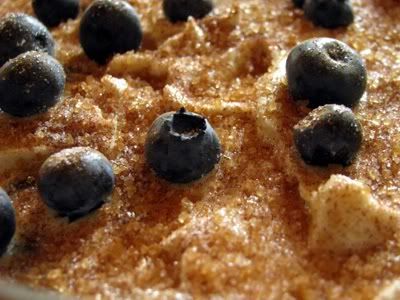 Here's the assembled cake before it goes into the oven.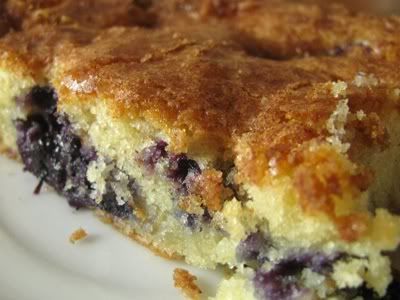 Original Recipe:
http://www.cookscountry.com/recipe.asp?recipeids=3546&bdc=42552
from
America's Test Kitchen Family Baking Book