Still looking for ways to eat zucchini? This is a nice change from zucchini bread and stir-fried zucchini. I really liked this. I let it marinate for 7.5 hours and it tasted very strongly of the lemon juice. I could've used less lemon juice or maybe not marinated it for as long since it didn't taste much like zucchini by the end. But the slices still had a nice firmness to it. Really yummy. Served with some stuffed zucchini. Also snacked on the leftovers the next day. And since this recipe doesn't involve the stove, there's no need to produce heat in your kitchen in the middle of a heat wave.
Marinated Zucchini Salad
2 small zucchini, washed and sliced paper thin
3 Tbsp lemon juice
2 garlic cloves, roughly chopped
1 Tbsp olive oil
2 tsp dried basil
1 garlic clove, minced
salt and black pepper to taste


Toss the thinly sliced zucchini with the lemon juice, garlic halves, olive oil; salt and pepper to taste. Remember to use a non-reactive bowl for marinating.


Cover bowl and refrigerate 4-8 hours, stirring occasionally.


Once you are ready to serve the salad, Save one garlic clove, finely minced and toss back into the salad along with basil.


Adjust seasoning if necessary. Best eaten within 24 hours

Not too many ingredients needed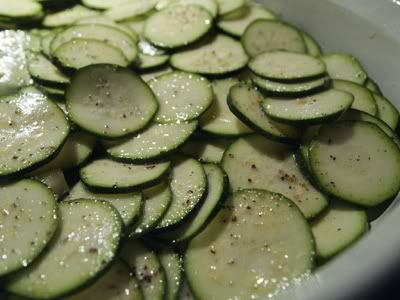 Ready to go sit in the fridge for a few hours. At this point, it's already kinda tasty.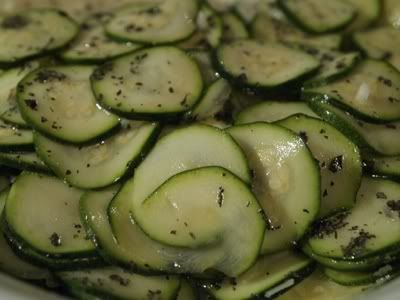 Here's the finished dish after marinating for 7.5 hours.
Original Recipe:
http://medfield.patch.com/articles/recipe-zucchini-marinated-salad