One night, I scanned the signs as I drove north on Route 1, heading out of Boston. I wanted to grab some take-out but nothing appealed to me. Then I saw the word 'wings' and decided to try that. Once I got inside, the menu was primarily pizza but I did see one item mentioning their "signature fall-off-the-bone wings" and ordered that to go. Wow! I didn't taste it until I had reached home almost an hour later but we were so blown away by it that I kept remembering those wings for weeks afterwards. Luckily, the menu did mention what they marinated their wings with so I could search online for similar sounding recipes. This is my attempt to recreate those wings.
If you can drive out to
Angela's Coal-Fired Pizza
in Saugus, then you can try the original wings. So good. And their Figaro pizza with figs, prosciutto, mozzarella, arugula, bleu cheese, and shaved parmesan was fabulous.
Brian really liked these wings a whole lot too. Still thinks it's not quite what we had from Angela's but it's close enough for me. I'm going to stop fussing with this recipe. So long as I was heating up the oven, I baked off the last of the dough for Soft Oatmeal Cookies, and then also did the Saucy Mushrooms and
Roasted Zucchini with Garlic
. So it was a 3-course dinner: first mushrooms, then zucchini, then wings. I guess 4 courses if you count an oatmeal cookie as dessert.
Rosemary Lemon Chicken Wings
Prep Time: 40 Minutes (plus optional marinating time)
Active Time: 20 Minutes
Ingredients:
2 Pounds Chicken Wings
juice and zest of one lemon (~ 2 Tbsp lemon juice)
1/4 cup olive oil
2 tsp dried rosemary (or 1/4 cup of chopped fresh rosemary)
4 cloves Garlic, minced
1/4 tsp cayenne pepper
1/4 tsp crushed red pepper
1/4 tsp ground allspice
1/2 teaspoon Salt
1/2 teaspoon Pepper


Set the oven to 400F


In a large mixing bowl, whisk all ingredients except chicken together. Then add all the chiken and mix it all together.


If you have the time, cover bowl and let marinate for a few hours in the fridge. You can skip this step if you're in a hurry but the longer it marinates, the stronger the flavors get.


Put wings on a rack in a roasting pan and pour remaining marinade on top. (Second time I skipped the rack and just poured the remaining marinade on top. Still good and one less thing to clean.)


Put in the oven for 20-25 minutes on one of the higher racks.


Serve right away or save them in the fridge and eat them later cold.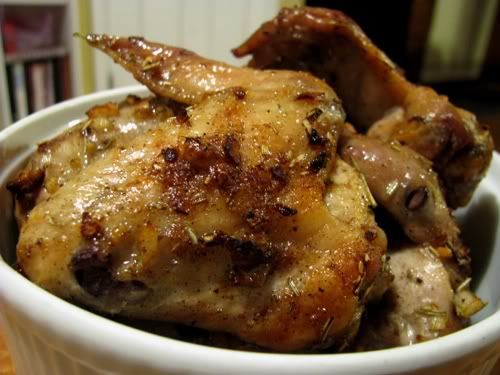 Adapted this recipe:
http://oilandbutter.com/2010/09/lemon-rosemary-chicken-wings/