I didn't follow the recipe particularly closely, instead opting to do a variation on this recipe. This led to less than stellar results.

I did start with throwing the cubed lamb pieces and bones from some lamb loin chops and the lamb shank into a pot, covering with cold water (should've at least used some kind of broth), and bringing that to a boil. Then lowered to a simmer, covered and simmered for 40 minutes to start the basis of the stock. After 40 minutes, I added two pinches of salt, about a 1/4 teaspoon of ground pepper. Laid down a layer of the chopped carrots and onion rings, and put some sweet potato chunks over that (since I didn't have any regular potatoes). I think the recipe was right...I should've waited 20-30 minutes and then added the potatoes on top. I also shouldn't have been cavalier and just mixed the potatoes into the soup. They got very very soft and mushy. I left it to simmer for another hour after the vegetables were added.

I liked the texture of the meat -- very tender and soft. Overall taste was pretty bland (which B notes is true to traditional Irish cooking). I still liked this but I think I was mostly liking the hot soup in cold winter comfort aspect of it. It's not too difficult though so I would make it again if I could remember to start it early enough. I served this over egg noodles. My boyfriend B liked it ok but didn't think it was all that memorable compared to many of the other recipes I've tried.


Irish Lamb Stew

serves 4

2 lb lamb, cut into about 1-2 inch large chunks (used a hunk of boneless lamb shoulder)
3 medium potatoes
4 medium onions
4 medium carrots
3.5 cups lamb stock*
small thyme branch (+- 1/4 tsp)
a little flour
salt, pepper
2 Tbsp chopped parsley




(optional) Heat some oil over medium-high heat and brown the lamb chunks on all sides. Many recommend starting with this step but I had skipped it due to laziness.


Toss the cut up meat in a little flour to coat lightly. Place the meat in a pot and pour over enough (room temperature) stock to cover. I didn't have lamb stock so I had used cold water (which might help explain the blandness of my version). Bring to a boil, cover and lower heat. Allow to simmer for 40 minutes. I also included some lamb bones that I had sitting in the freezer (leftovers from other dishes).


Cut the potatoes into quarters, the onions into rings of about 1/4-inch and the carrots into thick, diagonal slices.


Add the onion rings, sliced carrots and quartered potatoes. Add a pinch of salt and pepper and the thyme. Pour over the rest of the stock, cover and allow to simmer for another 1 to 1-1/2 hours or until the meat is very tender and the potatoes are done. [Note, the recipe suggested adding the potatoes after 20-30 minutes and cautioned against submerging the potatoes in the liquid. I had ignored this advice. Foolish of me since my potatoes ended up overcooked.]


Using a slotted spoon or similar, carefully lift out the potatoes and some of the vegetables. Place some of the meat into a deep plate. Place a few potatoes, some of the vegetables and a little of the stew gravy and serve garnished with chopped parsley.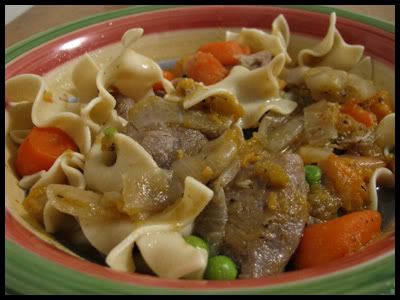 Original Recipe: http://www.epicureantable.com/recipes/L/irishstew.htm