I had high expectations for this recipe since it billed itself as Succulent Braised Pork. My oven was running a little on the cool side so I left it to braise for an extra hour. (Besides, I wanted to go for a run before dinner.) I did flip it once in the middle so that the top would have a chance to be submerged in liquid too. When I took it out of the oven, the meat was indeed meltingly tender. I was able to shred the meat with just a fork. At first, B felt the meat was very bland. I had added some potatoes to the recipe and maybe they had soaked up a lot of the salt of the original recipe. I had skipped the final tasting step so once I sprinkled on a dusting of salt, he agreed that it tasted wonderful. The first time I made it, I added the optional cup of water and the sauce came out very thin, more soupy than thick sauce. Second time, I added less liquid and a little more flour and tomato paste. That seemed to help. Either way, the broth is flavorful.

With lots of carrots, mushrooms, and potatoes, it made for a nice one-pot meal. We had the leftovers as shredded pork tacos. Another night had the leftovers with Jalapeño Cornbread and roasted sweet potato wedges. Definitely keeping this recipe in our regular rotation since it's pretty easy to prepare and mostly requires patience while waiting for it to finish cooking.




Succulent Braised Pork
Adapted from a Melissa d'Arabian recipe

Prep: 25min
Cook: 3hr 30min
Level: Intermediate
Yield: 4 servings plus leftovers

2 pounds pork shoulder, cut into 6 large chunks
Salt and ground black pepper (generously covered all sides)
2 onions, chopped
2 celery stalks, chopped [omitted since I had none]
6 carrots, chopped into 1-inch chunks(used lots since the comments mentioned liking the carrots)
4 cloves garlic, roughly chopped
2 Tbsp tomato paste
2 Tbsp all-purpose flour
1 cup red wine
1 3/4 cups chicken broth
1 bunch parsley stems, tied with string [omitted since I had none]
2 bay leaves
1 cup water [I did add this extra cup of water to bring up the water level; 2nd time I only added 1/2 cup]
8 ounces mushrooms, whole (optional)
2 small potatoes, cut into large chunks (optional)



Preheat the oven to 300 degrees F. Pat the pork dry with paper towels and season with salt and pepper.


In a large Dutch oven, heat the olive oil over medium-high heat. Working in batches, brown the meat on all sides until a golden crust forms. Set the pork aside on a plate.


To the pan add the onion, celery, and carrot and sweat until softened, 5 to 7 minutes.


Add the garlic and sweat another 2 minutes.


Stir in the tomato paste and cook for 3 minutes to cook off the raw flavor and caramelize it.


Sprinkle with the flour and cook another 2 minutes to cook off its raw flavor.


Whisk in the wine and reduce it by half.


Return the pork to the Dutch oven, then stir in the beef stock, parsley stems, and bay leaves. Add the optional water if liquid does not come up to the top of the pork. Do not completely cover the pork with liquid.


Cover the pan and place it in the oven to braise until the meat is fork tender, about 3 hours.


If using mushrooms, add those after about an hour of cooking. If using potatoes, add those with about 1 hour left in the cooking.


Taste and season with more salt and pepper, if needed. Don't skip this step like I had at first.


Transfer to a serving platter and serve.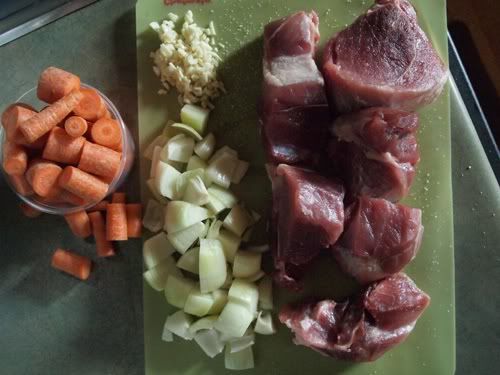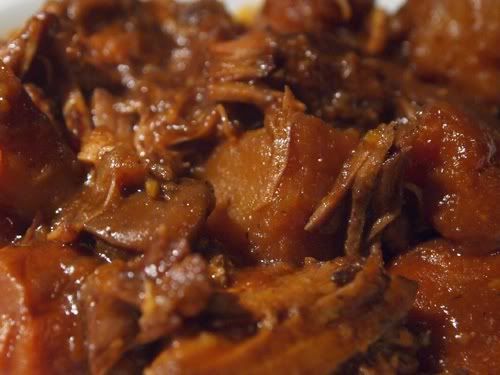 Original Recipe: http://www.foodnetwork.com/recipes/melissa-darabian/succulent-braised-pork-recipe/index.html