Made this for first time because I had 2 small jalapeño peppers in the fridge and I wanted some cornbread to eat with the Succulent Braised Pork leftovers I wanted to heat up. I ended up with a little more than 2 Tbsp of diced peppers (discarding seeds). Realized at the end of making the batter that I had only used 2 Tbsp butter, not 2 ounces (4 Tbsp). I didn't want to melt more butter and add it so I just buttered the 10-inch cast-iron skillet with almost 1 Tbsp butter and then added 2 ounces of shredded extra-sharp cheddar cheese to the batter and luckily, that worked out. I used 1 cup of canned sweet white corn since that's what I had.

Yum! Gave a little hint of heat but not really spicy (which is just about right for me) and tasted good with the pork. B liked it so much he helped himself to a big big second slice. Baked for 30 minutes at 400F in the 10-inch cast-iron skillet. Came out a little thinner than I would've liked. I would've baked it in an 8-inch skillet if I had one. Maybe I'll try baking it in a cake pan next time.



3/4 cup cornmeal
1/4 cup unbleached all purpose flour
1 tsp baking powder
1/2 tsp salt
2 tbsp sugar
3/4 cup low fat milk
1 large egg
4 Tbsp butter, melted and cooled (I accidentally used only 2Tbsp)
1 heaped cup of sweet corn (ideally fresh)
2 small jalapeño peppers, seeded and diced
2 ounces extra sharp cheddar cheese, shredded (optional. I added cheese since I hadn't melted enough butter)



Preheat oven to 375 degrees. Butter an oven proof loaf pan or cake tin or a cast iron skillet and set aside.


In a large bowl, mix together the cornmeal, flour, baking powder, salt and sugar.


In another bowl, beat the egg and stir in the milk. Whisk well to combine and add butter, continuing to whisk.


Pour the wet ingredients into the dry ingredients and stir well to combine. Finally stir in the jalapeño pepper and sweet corn.


Pour the batter into the prepared pan. Bake for about 30 minutes till a skewer inserted into the center of the bread comes out mostly clean.


Serve warm.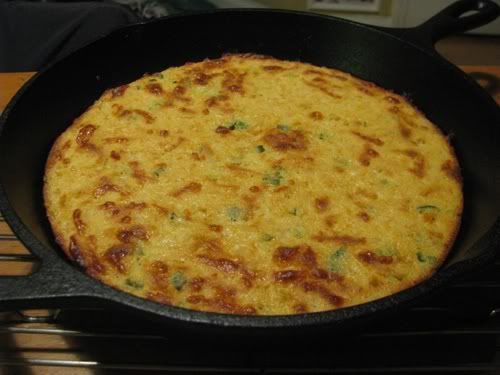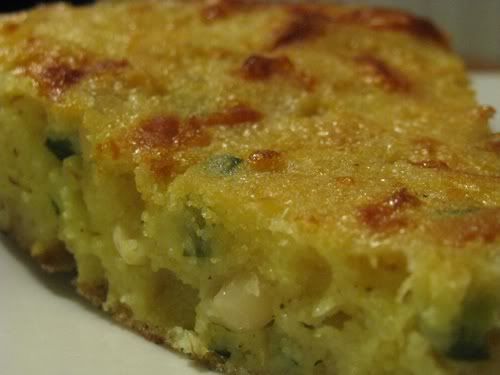 Variation on Ruhlman's Jalapeño Cornbread recipe: http://ruhlman.com/2009/04/jalapeno-cornbread.html
Ruhlman explains about the backbone ratio being important and gives ideas on variations.