"Um...are you sure those ingredients are going to taste good together?"

I was going to go grocery shopping with my sister and she had pulled up this recipe that mixed together watermelon, tomatoes, mint, and feta cheese. (We were going to omit the sweet onion because she avoids onions.) This didn't sound at all appetizing to me.

My sister insisted, "This is the perfect summer dish! It's delicious and refreshing and we're going to make it!"

So we made it and sure enough, it was a huge hit. I've made this dish four times now and it's been enjoyed every time. I've given some of it away to 2 sets of friends and they've all been excited about the dish too. It really is the perfect summer dish. No cooking required (so no added heat) and the mint-infused chilled watermelon tastes absolutely wonderful. One of the times, I added just a little diced red onion and liked that version too.

Most times we used regular red tomatoes since that's what we had available but if you can get your hands on any heirloom tomatoes of different colors (orange, yellow, green), then use those because it's so pretty that way! For the green tomatoes, make sure you're using green heirloom tomatoes that are still green when ripe. If you use the tomatoes that are green because they're not ripe, I think those taste tangier. The tomatoes that are green-when-ripe taste pretty much the same as the regular red tomatoes.

Seriously, go try this out!



Mint Watermelon and Tomato Salad

1 (4 pound) chilled seedless watermelon, peeled and cut into 1-inch cubes
3 heirloom tomatoes (preferably green or orange or yellow), seeded and cut into 1-inch cubes
1 sweet onion, thinly sliced
3 tablespoons chopped fresh mint
1 cup crumbled feta cheese
1 teaspoon salt




Keep the cut watermelon in the refrigerator until ready to serve.

Let the other ingredients sit at room temperature (particularly the tomatoes).

Just before serving, combine the first 4 ingredients (watermelon, tomatoes, sweet onion, and mint) in a large bowl and mix gently.

Add the feta and sprinkle on the salt. Mix gently once more and then serve.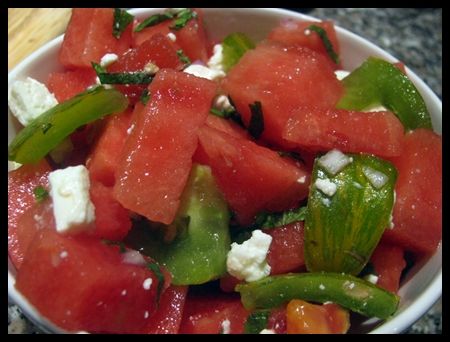 Thread at vegrecipes: http://vegrecipes.livejournal.com/1762833.html
Recipe found at http://allrecipes.com/recipe/watermelon-and-tomato-salad-2/