This summer, a friend invited me to her family's vacation home in Maine and made lunch reservations at Jordan Pond House in Acadia National Park. The traditional thing to do there is have tea and popovers. But the highlight of the meal for me was a piece of lobster quiche. It was a small piece of quiche but it was so yummy that I immediately looked for recipes when I got home. Since lobster was on sale for $3.99/pound, it was even an affordable indulgence. Besides, making this at home gave me an entire quiche for the price of a single serving when eating out. I highly recommend giving this recipe a shot. The sweet lobster flavor comes through in every bite. Liked it so much we made it again when we had some friends over for dinner.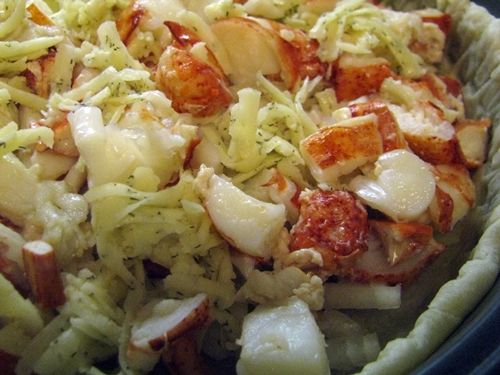 Lobster, cheese, and onion in the pastry shell before being cooked



Lobster Quiche

Yield: Serves 6

1 cup cut-up lobster meat (I used the meat from 2 soft-shell lobsters)
1 cup shredded dill Havarti cheese
1/3 cup minced onion
9-inch pastry shell, unbaked
4 eggs
2 cups light cream
1/3 teaspoon salt
1/8 teaspoon cayenne pepper




Sprinkle lobster, cheese, and onion into pastry shell.

Beat eggs. Pour cream into eggs, add seasonings, and mix well.

Pour egg mixture into pastry shell.

Bake for 15 minutes at 425F, then reduce heat to 300F. Bake 35 to 45 minutes or until knife inserted one inch from the edge comes out clean.

Let quiche stand 10 minutes before serving.



Modified this recipe from Yankee Magazine's Great New England Recipes
http://www.yankeemagazine.com/recipe/for/lobster-quiche/12564