Really tasty moist chicken! I like how you get a lot of flavor for not much effort. The first time, I just made the original recipe. The next time I made this, I tried doubling the spices as suggested by some of the comments and really liked that. The doubled spices formed a flavorful crust on the chicken (though the spices blackened considerably).

To make this an even faster prep, you could mix up the measured spices and keep those in baggies. Then add oil and cook whenever it's time. You could even rub the spice mix onto the chicken the night before and then just pull the prepared chicken out of the fridge when you're ready to cook if you're in a hurry when dinner times roll around.

I think it makes an easy weeknight meal. For sides, I've liked stir-fried green beans, roasted butternut squash, roasted potatoes, and rice. Give this one a try!




Spiced Roast Chicken Breast

Serves 2

2 chicken breast halves (bone in)

1-2 teaspoons chili powder

1/2 teaspoon ground cumin

1/2 teaspoon ground coriander

1/2 teaspoon black pepper

1/4 teaspoon ground cinnamon

1 teaspoon salt

1 1/2 tablespoons vegetable oil (divided)

3 tablespoons water


Preheat oven to 450°F.


Stir together spices and salt. Then add 1 1/2 teaspoons oil to form a paste.


Pat chicken dry. Rub spice mixture evenly all over chicken and under skin. If you have time, you can leave the spiced chicken in the fridge until you're ready to cook.


Heat remaining tablespoon oil in an ovenproof heavy skillet (preferably cast iron) over moderately high heat until hot but not smoking, then brown chicken on both sides, about 4-5 minutes total. Transfer skillet to middle of oven and roast chicken, skin side up, until just cooked through, 14 to 17 minutes.


Transfer chicken to a plate. Add water to pan and deglaze over high heat, scraping up brown bits. Pour pan juices over chicken.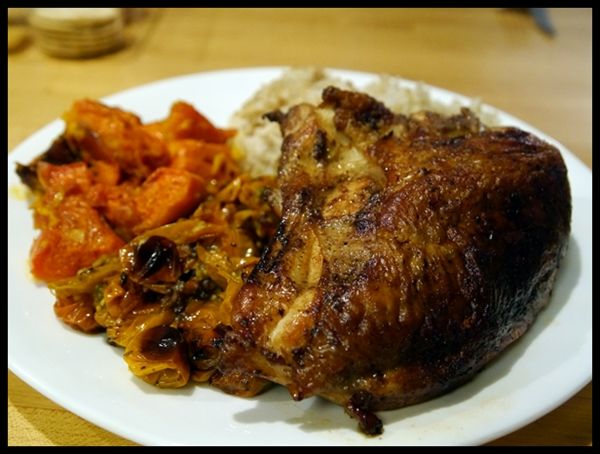 Original Recipe: http://www.epicurious.com/recipes/food/views/Spiced-Roast-Chicken-Breast-103314
cross-posted to cooking: http://cooking.livejournal.com/9585125.html