Another hit from Cooking Light. Really big hit. Time consuming prep but delicious and satisfying. Well worth the time on a weekend.
Notes:
Next time I'm going to try to make
Irish Soda Bread
(from
screamie
) for bread bowls. Also used sherry to deglaze since I didn't have wine. Left out the mustard. Used two split chicken breasts with bone in but skin stripped and fat trimmed. Cut off chunks of the breasts as best I could. Then the rest I just browned with the bite-sized pieces and let them simmer with the rest. Once they were done, I turned the heat off, took out the two parts with bones, stripped out any chicken meat and discarded the bones. Meat went back into the pot, stirred around more and served it up.
Homemade chicken stock
(in previous post) worked really well in this dish. I've modified the instructions below slightly to help space out the prep time.
Dijon Chicken Stew with Potatoes and Kale
4 teaspoons olive oil, divided
2 cups sliced leek
4 garlic cloves, minced
1/3 cup all-purpose flour (about 1 1/2 ounces)
1 pound skinless, boneless chicken thighs, cut into bite-sized pieces
1/2 pound skinless, boneless chicken breast, cut into bite-sized pieces
1/2 teaspoon salt, divided
1/2 teaspoon freshly ground black pepper, divided
1 cup dry white wine
3 cups fat-free, less-sodium chicken broth, divided
1 tablespoon all-purpose flour
1 1/2 cups water
2 tablespoons Dijon mustard
2 cups (1/2-inch) cubed peeled white potato (about 1 pound)
8 cups loosely packed torn kale (about 5 ounces)
Crushed red pepper (optional)


Prepare the garlic and leeks. For leeks, be sure to peel it off the center, one layer at a time so you can rinse all the dirt out from in between the layers.





Prepare the chicken and toss in the flour.


Heat 1 teaspoon oil in a Dutch oven over medium-high heat. Add leek; sauté 6 minutes or until tender and golden brown. Add garlic; sauté 1 minute. Spoon leek mixture into a large bowl.


Place 1/3 cup flour in a shallow bowl or pie plate. Dredge chicken in flour, shaking off excess. Heat remaining 1 tablespoon oil in pan over medium-high heat. Add half of chicken mixture; sprinkle with 1/8 teaspoon salt and 1/8 teaspoon black pepper. Cook 6 minutes, browning on all sides. Add browned chicken to leek mixture. Repeat procedure with remaining chicken mixture, 1/8 teaspoon salt, and 1/8 teaspoon black pepper.


Add wine to pan, scraping pan to loosen browned bits. Combine 1 cup broth and 1 tablespoon flour, stirring with a whisk until smooth. Add broth mixture, remaining 2 cups broth, water, and mustard to pan; bring to a boil. Stir in chicken mixture, remaining 1/4 teaspoon salt, and remaining 1/4 teaspoon black pepper. Cover, reduce heat, and simmer 30 minutes.


While that's simmering, prepare the potatoes. Put the cut potatoes into cold water until they're ready to be added to the stew.





Stir in potato. Cover and simmer 30 minutes or until potato is tender.


While this is simmering, tear up the kale. Discard the hard thick stalk in the middle of the leaves. (or tell me what those stalks could be used for)





Stir in kale; cover and simmer 10 minutes.


Garnish with crushed red pepper, if desired.




Yield: 6 servings (serving size: 1 1/2 cups)
CALORIES 324(22% from fat); FAT 7.9g (sat 1.5g,mono 3.5g,poly 1.7g); PROTEIN 30.9g; CHOLESTEROL 85mg; CALCIUM 180mg; SODIUM 659mg; FIBER 5g; IRON 4.6mg; CARBOHYDRATE 33.7g
Cooking Light, JANUARY 2006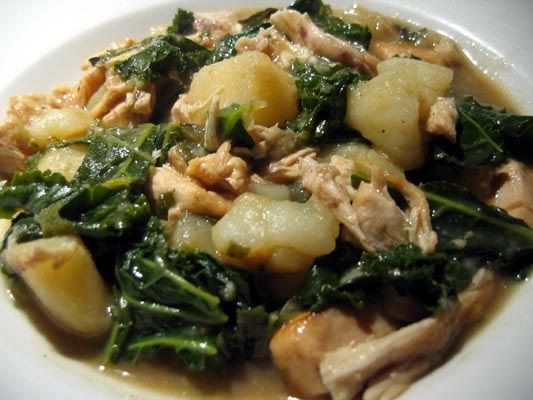 Thread at food_porn