I had long assumed I didn't like macaroni and cheese because I had associated it with that bright orange Kraft Mac n Cheese stuff. Plus I didn't really care for cheese until my 20s. But then I had some of Annie's Shells and Cheese and liked that a lot. Years later, it finally occurs to me to try making the macaroni & cheese recipe listed on the back of this box of pasta. I adapted it to use half as much butter and cheese. Does that bring it into the neighborhood of being healthy? I hope so because I liked how this tasted and I still have more elbows pasta in the cupboard.
Although this is an old standard, it's new to me so it's on my list for
50 new recipes for 2006
. Come join the fun!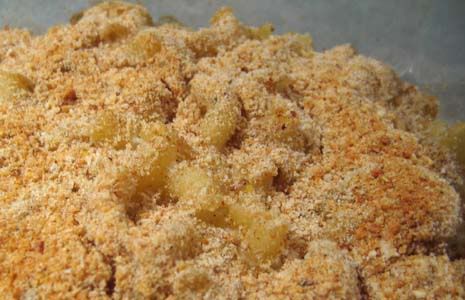 Macaroni & Cheese
(makes 4 to 6 servings)
1/2 (1-pound) package of Elbows pasta
3 tablespoons margarine or butter
[I used 1 Tbsp. butter]
3 tablespoons all-purpose flour
[I used 2 Tbsp. since I had reduced the amount of butter.]
2 1/2 cups milk
1/2 teaspoon salt
1/8 teaspoon pepper
1/4 cup minced onion
2 cups (8 ounces) shredded Cheddar cheese
[I used 1 cup cheese]
1/2 cup bread crumbs


Cook elbows as package directs; drain and set aside.

Preheat oven to 350F

In medium saucepan, melt butter. Stir in flour.

Gradually stir in milk. Cook, stirring constantly over medium heat, until sauce thickens. [This took a while; probably because I used less butter and flour than called for. Michael stirred, saying it's important not to scorch the milk, while I shredded cheese and minced the onion.]

Stir in salt and pepper.

Add onion and cheese; stir until cheese melts.

Combine cheese sauce and elbows. Spoon into greased 2-quart baking dish. Top with bread crumbs.

Bake 30 minutes. We baked and waited the 30 minutes but what does the baking step provide? Seems like it would be fine to eat already without needing to bake it first.

Edited to add another picture where I added about 5 oz of torn fresh spinach to the milk mixture after it had thickened after the suggestion by
jazzbird
. Also used panko bread crumbs on top (as suggested by
gottacook
and
sparkymonster
and
ullrsawah
) Yum!
Thread at cooking