Here's a quick, low-fat chicken recipe that
aiofe
suggested a while ago. This is another recipe for the
50 New Dishes challenge
this year for me.
Braised Chinese Chicken
About 1lb skinless chicken pieces
3/4 cup soy sauce
1/2 cup vinegar
1/3 cup sugar
1/2 tsp chilli flakes
4 cloves garlic
1 inch fresh ginger, finely sliced
3 cups water
1/2 tsp ground cinnamon
In the words of
aiofe
:
"Put the liquids, sugar, chilli, garlic, and ginger in a large saucepan. Bring to the boil; simmer for about 5 minutes. Add the cinnamon stick and chicken, simmer gently for half an hour, or until chicken is done (boned pieces take longer to cook than those without bones). Serve on steamed greens and sprinkle with toasted sesame seeds.
Adjust seasonings (quantity of soy, vinegar, etc) to taste - this is how I like it, but it's pretty flexible.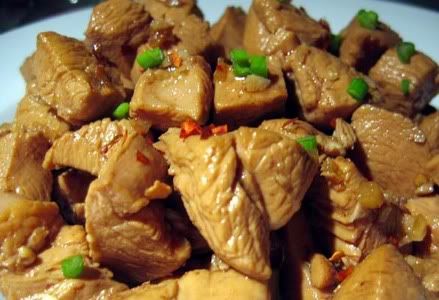 I also sometimes serve it with noodles or brown rice. It's tasty, low fat, almost effortless to make, and the chicken is juicy and tender. The mixture that you boil the chicken also makes good stirfry sauce, and I've been meaning to try it as an additive to soup."
That sounded good to me so I cooked up some Chinese noodles. I also shredded a few cups of Napa cabbage, sliced up some carrots and green onions along with the chicken, and stir-fried those briefly. Put it all on top of the cooked noodles. Poured in a little of the sauce to flavor it all and stirred. Pretty tasty!
Thread at cooking
aiofe
had responded in
http://www.livejournal.com/community/cooking/3387094.html?thread=26421206#t26441174