Cold potato soup? Sounds strange...like someone didn't feel like heating up the leftovers. But I wanted to taste this and the recipe didn't look too intimidating. Besides, it's so much fun to say vichyssoise (Vee-shee-SWAHZ). I had some leeks I was trying to use up. Loved this recipe (thanks
martygreene
!) and I liked that it didn't need the butter called for in a lot of other vichyssoise recipes. It tasted good both hot and cold (though I still prefer it hot).
This recipe taken from
http://community.livejournal.com/untitled/16358.html
Thanks
martygreene
!
Potato Leek Soup (Vichyssoise)
4 large white potatoes peeled and diced
[just used 3 big ones]
4 large leeks, chopped (1 bunch)
[I used about 1-2 cups of minced leeks since I ran out]
1-2 stalks celery chopped (optional)
[left this out too]
1 white onion chopped
5 cups chicken/vegetable broth + water
salt to taste (if using canned broth, it may already be salty)
white pepper
milk (or soymilk)
[Used 1% milk]
cream
[left this out]
chives or parsley to garnish


To wash leeks, split lenghwise (starting about 2" from the base), fan out and rinse well under cold water. Shake out, chop. Do not use the tough upper part of the leaves. [You can use the chopped off parts to make chicken stock later. Just store veggie scraps (celery, onion, leeks, parsley stems in this recipe) in a bag in the freezer until you need them.]

Put potatoes, leeks, celery, onion and chicken stock in a large pot. (use enough liquid to slightly cover vegetables).

Cook until tender (about 30 minutes). [keep an eye on it after 20 minutes to see if the liquid has evaporated.]

Remove from heat. Add salt and pepper to taste.

Cool.

Place in blender or food processor. Pour through seive. [I didn't have a blender or food processor so I just minced the onions and leeks as small as I could stand cutting them. By the time it's done cooking, it was easily mashed with a potato masher.]

Return to pot, add milk & cream to taste--just enough to "smooth" the consistency but retain the "leek" flavor. [Most of the liquid had boiled off for me so I was left with something that had the consistency of liquidy mashed potatoes. I added about 1/4 to 1/2 cup of milk.]

Serve hot or cold.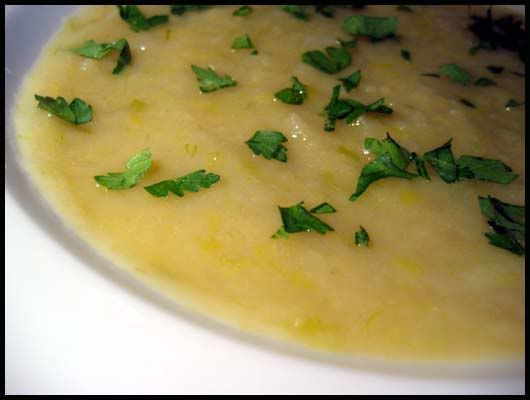 Thread at food_porn