When I'm in a hurry for something to eat, I like to eat this shrimp and couscous. Only takes 15 minutes to prepare and pretty filling.
some couscous
some shrimp (5-8)
some olive oil
some Old Bay seasoning
some peas (optional)


If using frozen shrimp, put shrimp in a bowl of cold water to thaw.

Set pot of water on stove to boil (follow instructions on your couscous package). Once water is boiling, throw in the couscous, put the lid on and remove from heat.

After about 10 minutes, the shrimp should be flexible enough to take the shell off. So remove the shells.

Heat a bit of olive oil and stir-fry the shrimp until pink and cooked through. Sprinkle on some Old Bay seasoning while they're cooking.

If you're using peas, saute the peas along with the shrimp to heat through.

If enough time has passed, fluff the couscous, toss the finished shrimp (and peas if you're using them) on top and eat.

And if you're willing to take an extra moment, mince some garlic and saute that with the shrimp too.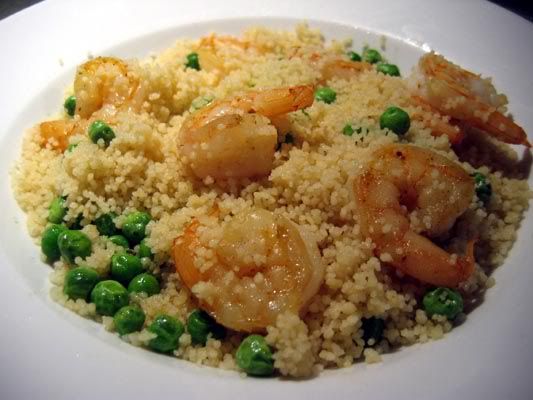 thread at picturing_food