This dish is always a hit when I make it but for some reason, Michael could never remember that I had cooked it before. (maybe because I only made it about once a year but still....he seemed to like it so much whenever he ate it each time)
Kung Pao Chicken
(from a book of "Chinese Cooking" from the "favorite all-time recipes" series)
5 teaspoons soy sauce, divided
5 teaspoons dry sherry, divided
3 1/2 teaspoons cornstarch, divided
1/4 teaspoon salt
3 boneless, skinless chicken breast halves, cut into bite-size pieces
1 Tablespoon red wine vinegar
2 Tablespoons chicken broth or water
1 1/2 teaspoons sugar
3 Tablespoons vegetable oil, divided
1/3 cup salted peanuts
6 to 8 small dried hot chili peppers
1 1/2 teaspoons minced fresh ginger
2 green onions, cut into 1 1/2-inch pieces
1. For marinade, first combine 2 teaspoons of sherry with 2 teaspoons of the cornstarch in a cup or small bowl and mix well with a fork until you've beaten the lumps out. Add in 2 teaspoons soy sauce and salt and mix well. In a large bowl, combine the chicken and marinade and stir to coat well. Let stand 30 minutes.
2. Combine remaining 3 teaspoons soy sauce, 3 teaspoons sherry, the vinegar, chicken broth (or water), sugar, and remaining 1 ½ teaspoons cornstarch in small bowl; Mix well and set aside.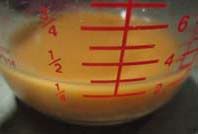 3. Heat 1 Tablespoon of oil in wok or large skillet over medium heat. Add peanuts and cook until golden. Remove and set aside.
4. Heat remaining 2 Tablespoons oil in wok over medium heat. [I only used 1 Tbsp oil since it was a nonstick wok.]
5. Add chili peppers and stir-fry until peppers just begin to char, about 1 minute.
6. Increase heat to high. Add chicken and stir-fry 2 minutes. Add ginger; stir-fry until chicken is cooked through, about 1 minute more. Add onions and peanuts to wok.
7. Stir cornstarch mixture and add to wok; cook and stir until sauce boils and thickens (happened quickly for me)
Makes 3 servings.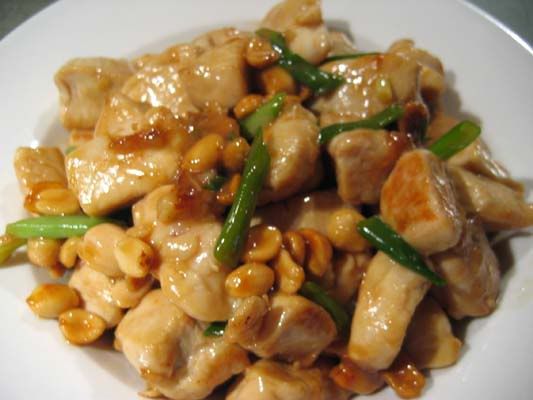 thread at food_porn